Open Architects
Data Dashboards
Our dashboards transform your data into actionable information. Dashboard data refreshes nightly, so you always have the latest information at your fingertips, from daily attendance to district and school enrollment, to the latest assessment results. Easily monitor trends and use our advanced features to filter, slice, and drill down into the data for deeper exploration.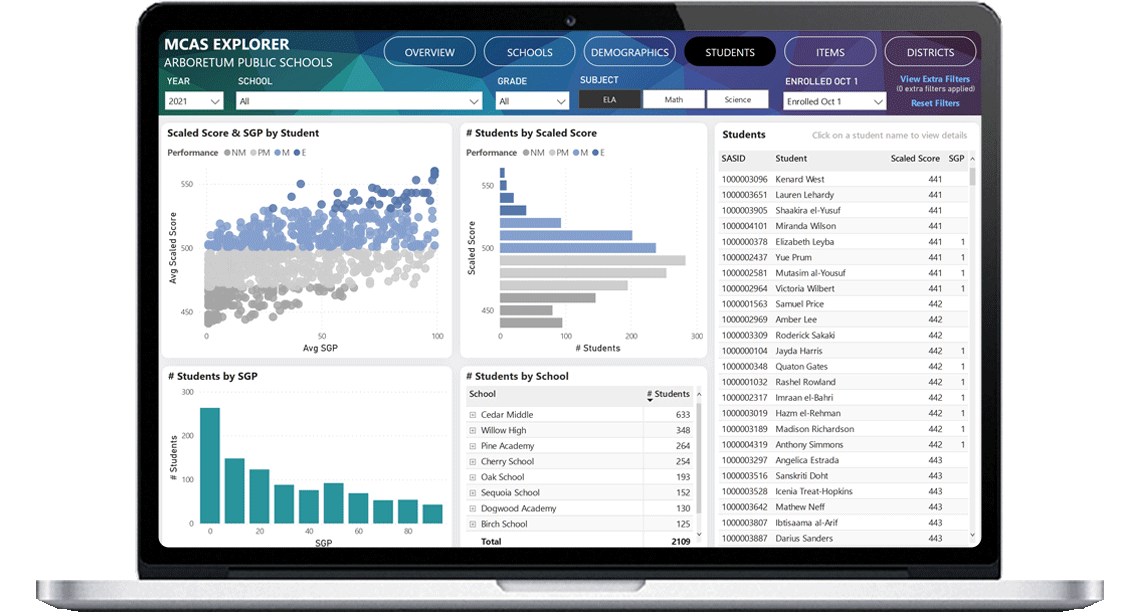 Intuitive Design
Working with data should be fun. Our dashboards aren't just functional, they're beautiful and intuitive.
Realtime Insights
Your dashboard data refreshes every 24 hours. No more waiting for weekly or monthly reports.
Robust Permissions
Customize data access for each account to ensure users only view data for their school or department.
Integrated Data
Our dashboards bring together data across domains, so you can see how student, HR, and financial trends intersect.
Filter, Slice, and Export
Interactive features allow you to filter your data by demographic group, slice by school, and select date ranges. Export custom reports from your dashboards for printing or follow-up action.
Custom Built
Choose from our menu of best-in-class dashboards or request a fully custom project. We would love to innovate with you.
See it in
Action
Don't take our word for it. Schedule a demo and see it live.
REQUEST A DEMO
Popular Dashboard Suites
Check out our most popular dashboard packages.
Student Dashboards
Visualize all your student information in one place, including attendance, interim assessments, course grades, behavior incidents, and more.
Which students are at risk of becoming chronically absent?
Which class sections are in danger of becoming over-subscribed?
Which courses are most challenging for students?
How does student attendance impact assessment results?
How has school performance changed over time on our state assessment?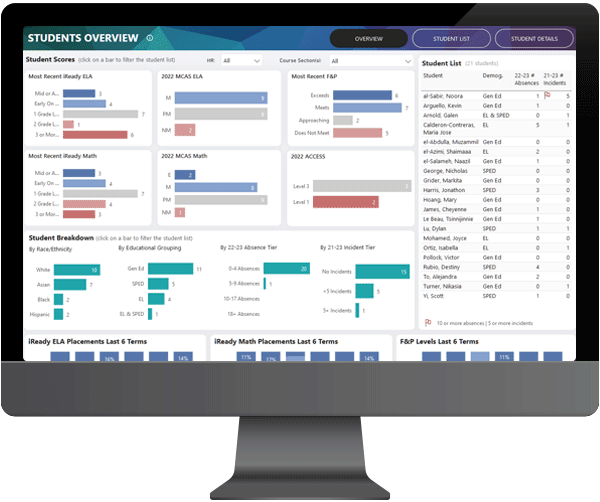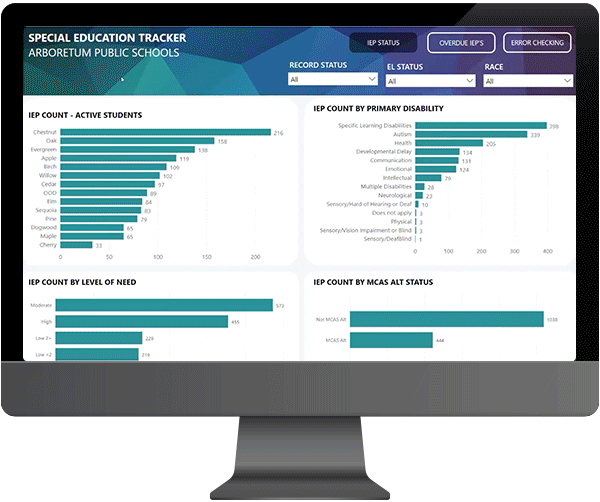 Special Education Dashboards
Easily view information about your in-district and out-of-district students, IEP requirements, program staffing, and costs.
Which special education programs have increasing or declining enrollment?
How many IEPs will be due soon and are any overdue?
Are we projected to stay within our out-of-district budget for this fiscal year?
Are we in compliance with IEP translations?
Our
Partner Portal
Access all your Open Architects data tools through our secure Partner Portal. Learn more here.